You know that the time is here. The girls in their green sashes are knocking on your door or stalking you at the grocery store, begging you to buy cookies. You hate to say no to them but what will you do with a box of gluten-filled cookies? Give them to your friends or family so you can poison them with hydrogenated oils and artificial ingredients? I don't think so. Lots of bloggers out them have set out to create healthier Girl Scout cookies. Healthier, and, dare I say, tastier cookies.
So don't despair. You can partake in Girl Scout cookie eating, too! Without all the sugar, fake ingredients, and gluten! In fact, most of these recipes are vegan or can be easily converted into vegan recipes. Oh, happy day!
Now, what do you do about the Girl Scouts? Donate money! You don't have to buy a box of cookies, just donate $3.50 and your still supporting your local Girl Scouts without bringing junk into your home.
But, you're here for the cookie recipes so I shall delay them no further. ;)
Tagalongs
by Katie at Chocolate Covered Katie (My first favorite Girl Scout cookie)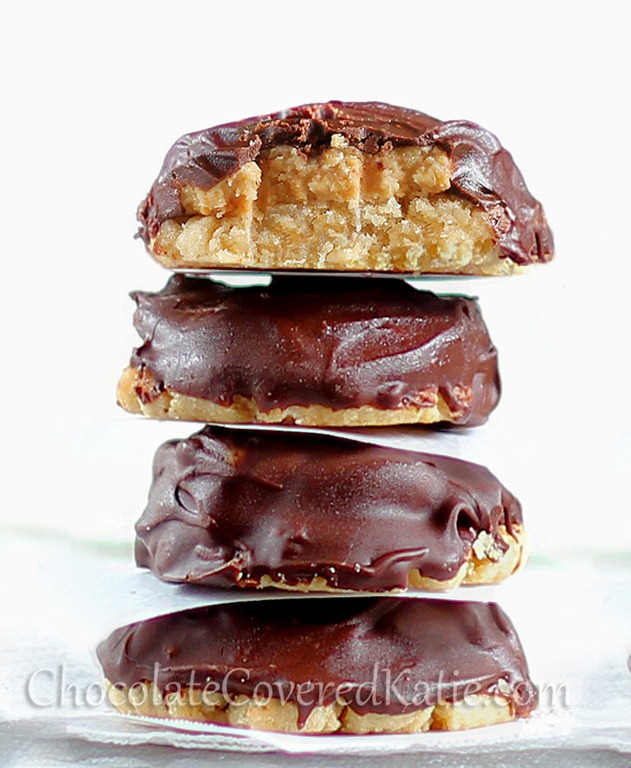 CCK's photo
Thin Mints
by Elana at Elana's Pantry (My second favorite Girl Scout cookie)
Photo from Elana's Pantry
Samoas
by Elana at Elana's Pantry
Photo taken by Angela
Samoas
by Brittany at Real Sustenance
Photo taken by Brittany
Treefoils
by Stepahnie O'Dea at Totally Together
Photo taken by Stephanie
Lemonades
by Nicole at Gluten-Free on a Shoestring
Photo taken by Nicole
(Yeah, I was lazy and didn't take any of my own pictures.)
I hope this satisfies your Girl Scout cravings! I've tried Elana's Thin Mint recipe and it was amazing! Next on my list is CCK's Tagalong recipe. I can't wait to make them this weekend! Hopefully I'll be able to experiment in the kitchen soon for either a Mango Creme or Lemonade cookie recipe.
Inquiry of the Day:
Mango Cremes or Lemonade cookies?
You pick! I promise I'll try to make them, but I can't guarantee how long it will take. ;)